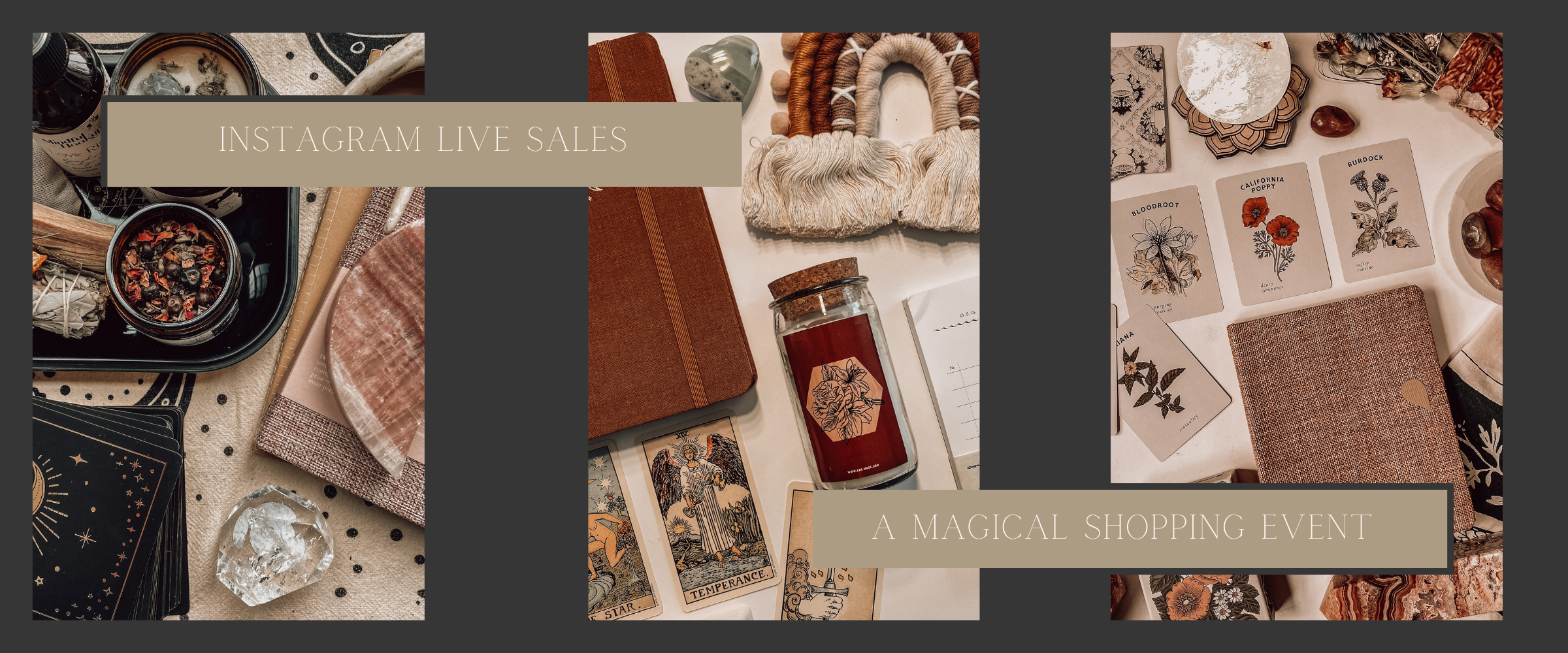 NEXT INSTAGRAM LIVE SALE & FEEDSALE
LIVE SALE GUIDELINES
Why live sales are so much fun
We absolutely love doing live sales!!
We really enjoy being able to interact and connect with our supporter and customers.
So much community and friendship has been forged from our regular live sale attendees whom we refer to as our Soul Crew.
Live Sales offer the buyer a very interactive experience. You get to see a product much closer up than you can from a website. It also gives the buyer a chance to ask questions about the product. My favourite part is sharing different ways to use the products and helping educate people on its potential uses. I think most of the crew would agree that these sales are a great learning experience and fun.
While we do have items on our website you will always find the newest stuff offered on our live sales first and at better prices.
Why do we offer better prices during the Live Sale? We are a small 2 person husband and wife business. We are doing all the work making listing , writing descriptions , and taking photos of items for a website. Doing this is extremely time consuming, especially when you only sell 10 to 20 of something as opposed bigger brands who sells hundreds or thousands of a certain item. We realised that because of the time we spent on these listings we were making less than minimum wage. We were putting to much time and effort into these listings with little return. With Live Sale we use our time optimally and can receive a liveable wage.
HOW TO JOIN A LIVE SALE
My Live Sales take place on Instagram. To join a Live Sale simply click on my icon up in the story section of  Instagram when I am Live.  My story icon at that time will be lit up and say I'm Live. 
Once you are in have fun, say hi, and feel free to claim items, or ask questions. 
I can not see you but I can see any comments that you type.  You will be able to see and hear me and my space. 
Conduct during a Live Sale
We have an amazing community of people who attend the Live Sales. Everyone is so warm and welcoming. This is our Soul Crew and we invite you to be a part of that crew. All you have to do is be kind and respectful to all those in attendance.
We strive to provide a safe and positive space for you to connect with others, learn some new things, and shop if you choose.
If you are new to Live Sales you may feel nervous about doing one for the first time so we want to make your first time the best experience ever.
We will not tolerate assholes who want to bully people or feel the need to make unkind remarks. We are fierce in our love and protection of our crew.
We will also not tolerate scam solicitors. You will be blocked.
How to Claim / buy items during the live sale
I will show the items on the table one at a time and say the price of that item. 
If the item is something you would like to purchase just comment the price of the item and letter if applicable.
Example : A35
I will announce the name of the first person or persons I see on my screen. If you name is announced you get the item.
PLEASE NOTE - Please note that the first person I see on my screen may not be the first person on yours. Everyone"s screen is different.
Your claim is your commitment to purchase. 
DO NOT CLAIM ITEMS IF YOU CAN NOT PAY!!
It is seriously not cool and will get you blocked.
​
PAYING for claims
Within 24 hours after the last day of Live Sales I will post to my Instagram stories that the listings are up on my website.
It is your responsibility to check my stories and pay for your listing within 24 hours after it is posted.
To find your listing go to the live sale section on my website and look for your your instagram username.
when you open the listing it will have a list of all the items you claimed during the sale.
Just add your listing to your shopping cart and checkout.
 You may add other items from my website at the same time for a combined checkout. 
WE ASK THAT YOU CHECK OUT WITHIN 24 HOURS  OF RECEIVING YOUR LISTING. 
If you have an issue and need to make other arrangements just reach out to us and we will do what we can to help you. 
Failure to pay or contact us for an alternative plan will result in you getting blocked.
payment plans
At checkout we offer several third party payment options. 
Afterpay & Sezzle let you make payments while receiving your items right away and don't charge interest or fees for purchases.
I suggest signing up for an account on their websites prior to the Live Sale so you can see what your spending limit with them will be. You also want to make sure you have been approved prior to claiming as you will still be responsible for the items you claimed. 
We also accept credit cards & paypal.
​
Shipping
We offer Free Shipping on orders that exceed $100 US dollars and are shipping to locations in the United States.
have more questions
Do you still have questions on how Live Sales work? We welcome you to reach out to us via email at quinn@mindfulhookup.com or via our contact us page. We are also here to help and assist you. xoxo